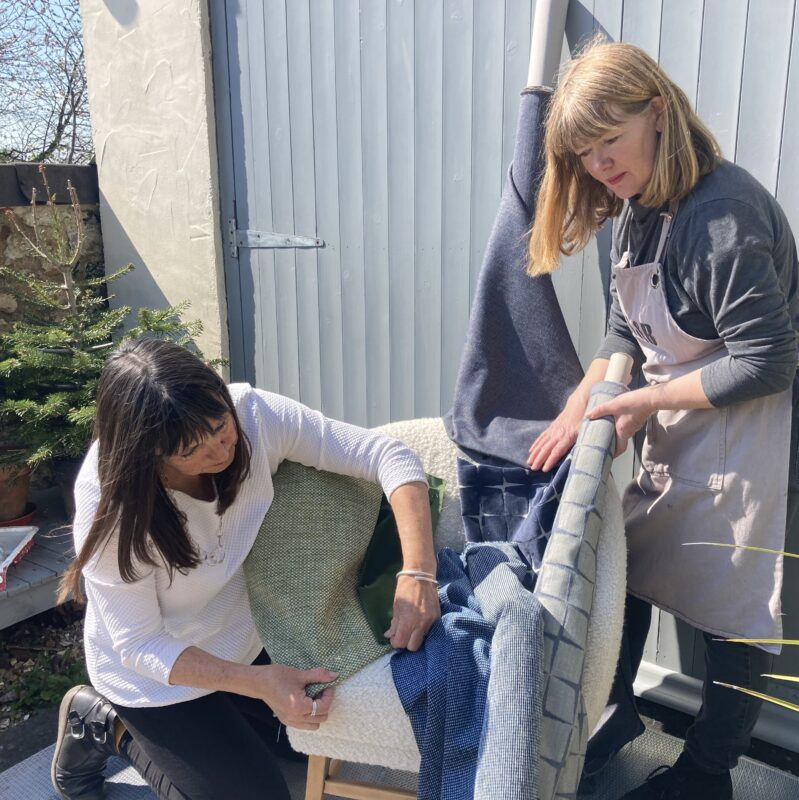 DD&B Interiors is a collaboration between traditional upholsterer Carol Brown and designer Karen Durham-Diggins. They launched their ever-changing collection of unique chairs, ottomans and other furniture pieces and crafted accessories in November 2020.
We take some very sad furniture and restore it into a fresh, repurposed, useful and beautiful piece of furniture, all with DD&B Interiors distinctive style. Using our imagination, skills and time we save well made pieces of furniture which would often end up being discarded.
DD&B Interiors are committed to repurposing furniture and trying to be as environmentally aware as possible.
We hold regular POP UPs at Felicity's Farm Shop, Morcombelake and at The Malthouse Gallery in The Town Mill, Lyme Regis so you can sit on and feel our furniture! Please see our blog for next dates and details.
Artisan upholsterer Carol Brown uses traditional working methods and materials and has nearly 30 years of experience. After art college she studied Upholstery Craft at The London College of Furniture, then started a studio in South London before moving to Morcombelake. She has worked for a range of Interior Designers, Antique dealers, magazine shoots, country estates and many local private houses.
Designer Karen Durham-Diggins focused on textiles and her love of colour at art school, eventually working for House & Garden and Interior Decoration magazine. Throughout her career she's worked extensively with creative businesses in theatre, print and digital. Latterly she has been responsible for several refurbishment projects in London, the home counties and her own house build and interior in Lyme Regis and has a keen interest in wood; texture, turning and finishes.